PeopleByName is a reverse phone number lookup service. It has limited to zero usefulness when entering cell phone numbers but produces reasonably accurate results when entering land lines or business telephone numbers.
How to Remove Information from PeopleByName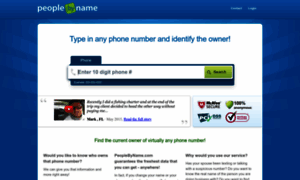 Visit PeopleByName's removal page. Enter your 10-digit phone number in the field provided and submit. Follow the instructions for calling or texting to verify your identity so that your number may be removed.
PeopleByName Privacy Policy, TOS and Removal
View the PeopleByName Privacy Policy here.
In some cases, a websites Terms of Service spells out ways to get your info off the site. This is sometimes referred to as a TOS removal. You can view PeopleByName's TOS to see if it will help you get your info off PeopleByName.
PeopleByName Opt Out
For instructions to opt out of PeopleByName visit .